Xirvik Vpn
First of all my laungig is not English so my spelling is very wrong but lets se if we
can make a bit sence out of this - I am Trying to conket Xirvik VPN
after paying I get a Mail including a zip file as you see here :

xx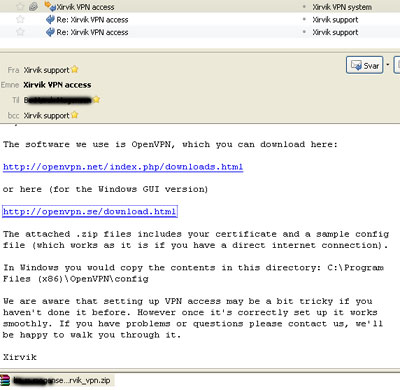 It written in the mail :
"The software we use is OpenVPN, which you can download here:

http://openvpn.net/index.php/downloads.html

(This seems good
Installation Package (Both 32-bit and 64-bit TAP driver included):
I Downloade : openvpn-2.0.9-gui-1.0.3-install.exe)

or here (for the Windows GUI version)

http://openvpn.se/download.html

The attached .zip files includes your certificate and a sample config
file (which works as it is if you have a direct internet connection).

In Windows you would copy the contents in this directory: C:\Program
Files (x86)\OpenVPN\config

We are aware that setting up VPN access may be a bit tricky if you
haven't done it before. However once it's correctly set up it works
smoothly. If you have problems or questions please contact us, we'll
be happy to walk you through it.

Xirvik "

(an we will later see the info in the e-mail has not nearly enough info)

Ok I downloade at http://openvpn.se/download.html install softwaere
now I need to extrakt the zip files into here :
C:\Program Files (x86)\OpenVPN\config

Here it is :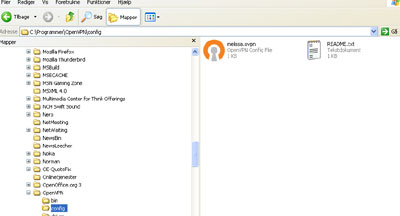 An now it s done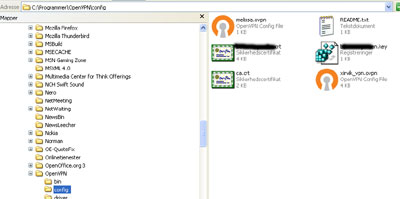 I open the softwaere no username an password is need so I Connect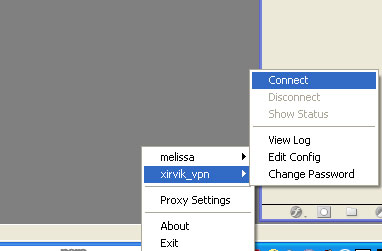 An I am "online"





now I wona tjek if Xirvik VPN access is woorking so i go to
http://www.ip-adress.com/
My IP address is: is the same as it has been all the time -
not much sence to paying for an VPN solution than

I have a kind og a simular VPN solution let s see how that is doing
VPNtunnel / https://www.vpntunnel.se/en

I Connect
write my username an pasword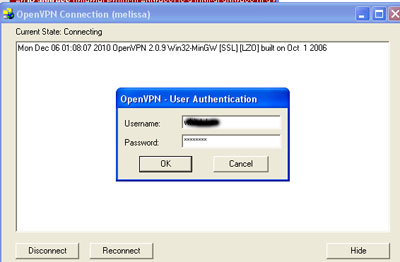 it s online I tjek the ip
http://www.ip-adress.com/

AN IT S woorking ( so easy can it be)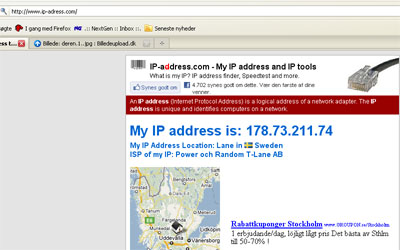 But VPNtunnel is A slow VPN solution an I know from a frind
http://www.xirvik.com/ have some of the best seed box so why not give it a chance an tjek if there VPN
solutions is great as well ... I dont know if that s answer there ever will be given a qustion to after all it seems imposibel
to conekt - I send som e-mail xirvik that tell me that the info whit the first e-mail is not nearly enough I have to go to
tutorial in our page. www.xirvik.com => Tutorials => VPN
let s see whats happening there

I am using xp so it most be here I will finn my info
http://www.xirvik.com/tutorial_en_openvpn.html#windows

It s a kind of a strange Manual thats jumping around betwin Xp Vista an 7 an no of it is really the same
but the conklusion most be that I have to deal whit a file named xirvik_vpn.ovpn open with notepad

it should loke like this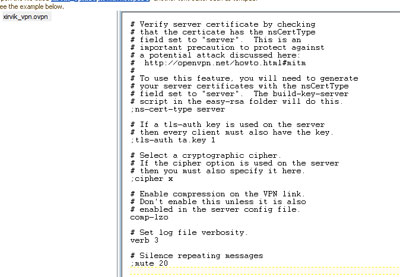 But it does not look like that an the txt the file shoul containe
has no simalarity what wwritte about xirvik_vpn.ovpn
on http://www.xirvik.com/tutorial_en_openvpn.html#windows

here it is :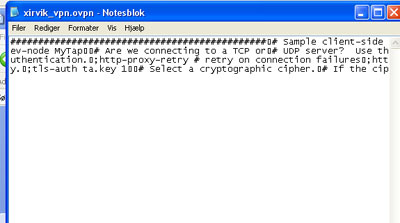 Xirvik VPN access one can say $7.95 / month is not a great loos
as it s advertist on http://www.xirvik.com/vpn.html but still it s a lot for noething ..
I dont really know if It can woork or not - but it is strange when so many other VPN providers can make
a solution that takes about 5 minuts to set up - that Xirvik VPN can make it so dificult - if i really is woorking ?

well it never woork out

we hat a long e-mail corspondence as you can see here :

mail 1
Answer from Xirvik
Den 04-12-2010 17:47, Xirvik VPN system skrev:
Hi,

The software we use is OpenVPN, which you can download here:

http://openvpn.net/index.php/downloads.html

or here (for the Windows GUI version)

http://openvpn.se/download.html

The attached .zip files includes your certificate and a sample config
file (which works as it is if you have a direct internet connection).

In Windows you would copy the contents in this directory: C:\Program
Files (x86)\OpenVPN\config

We are aware that setting up VPN access may be a bit tricky if you
haven't done it before. However once it's correctly set up it works
smoothly. If you have problems or questions please contact us, we'll
be happy to walk you through it.

Xirvik

***********************************************************************

mail 2
Answer from me

On Sun, Dec 5, 2010 at 7:50 AM, My Name <my@mail.com wrote:
I haven install it an its woorking or a kind of - but still when I Tjek
http://www.ip-adress.com/
My IP address is: 88.72.75.22

the softwaere says I have 10 .8..0.186 but fagcht is that it s not
woorking ?

I would really like it to point at Holland

regards
My Name
ps does this make sence to you
##############################################
# Sample client-side OpenVPN 2.0 config file #
# for connecting to multi-client server. #
# #
# This configuration can be used by multiple #
# clients, however each client should have #
# its own cert and key files. #
# #
# On Windows, you might want to rename this #
# file so it has a .ovpn extension #
##############################################

# Specify that we are a client and that we
# will be pulling certain config file directives
# from the server.
client

# Use the same setting as you are using on
# the server.
# On most systems, the VPN will not function
# unless you partially or fully disable
# the firewall for the TUN/TAP interface.
;dev tap
dev tun

# Windows needs the TAP-Win32 adapter name
# from the Network Connections panel
# if you have more than one. On XP SP2,
# you may need to disable the firewall
# for the TAP adapter.
;dev-node MyTap

# Are we connecting to a TCP or
# UDP server? Use the same setting as
# on the server.
proto tcp
;proto udp

# The hostname/IP and port of the server.
# You can have multiple remote entries
# to load balance between the servers.
remote 67.159.49.66 443


# Choose a random host from the remote
# list for load-balancing. Otherwise
# try hosts in the order specified.
;remote-random

# Keep trying indefinitely to resolve the
# host name of the OpenVPN server. Very useful
# on machines which are not permanently connected
# to the internet such as laptops.
resolv-retry infinite

# Most clients don't need to bind to
# a specific local port number.
nobind

# Downgrade privileges after initialization (non-Windows only)
;user nobody
;group nobody

# Try to preserve some state across restarts.
persist-key
persist-tun

# If you are connecting through an
# HTTP proxy to reach the actual OpenVPN
# server, put the proxy server/IP and
# port number here. See the man page
# if your proxy server requires
# authentication.
;http-proxy-retry # retry on connection failures
;http-proxy [proxy server] [proxy port #]

# Wireless networks often produce a lot
# of duplicate packets. Set this flag
# to silence duplicate packet warnings.
;mute-replay-warnings

# SSL/TLS parms.
# See the server config file for more
# description. It's best to use
# a separate .crt/.key file pair
# for each client. A single ca
# file can be used for all clients.
ca ca.crt
cert L.larsen..crt
key L.larsen..key

# Verify server certificate by checking
# that the certicate has the nsCertType
# field set to "server". This is an
# important precaution to protect against
# a potential attack discussed here:
# http://openvpn.net/howto.html#mitm
#
# To use this feature, you will need to generate
# your server certificates with the nsCertType
# field set to "server". The build-key-server
# script in the easy-rsa folder will do this.
;ns-cert-type server

# If a tls-auth key is used on the server
# then every client must also have the key.
;tls-auth ta.key 1

# Select a cryptographic cipher.
# If the cipher option is used on the server
# then you must also specify it here.
;cipher x

# Enable compression on the VPN link.
# Don't enable this unless it is also
# enabled in the server config file.
comp-lzo

# Set log file verbosity.
verb 3

# Silence repeating messages
;mute 20
***********************************************************************************************************

mail 3
Answer from Xirvik


Hi,

Please check the tutorial in our page. www.xirvik.com = Tutorials = VPN

Xirvik

On Sun, Dec 5, 2010 at 11:01 AM, My Name <my@mail.com wrote:
I have downloade the softwaere (
http://openvpn.net/index.php/downloads.html )

extraktet the win zip you send me to C:\Program Files
(x86)\OpenVPN\config

if there is anything else I have to do please tell me so an maby send me a
link that explains how to

best wish
My Name


Den 05-12-2010 08:46, Xirvik support skrev:

Hi,

Make sure you follow the VPN tutorial in our page.

Xirvik
***********************************************************************************************************

mail 4
Answer from me


On Sun, Dec 5, 2010 at 11:17 PM, My Name <my@mail.com wrote:
Den 05-12-2010 12:02, Xirvik support skrev:

I have about 6-7 vpn solutions NONE of them has taken more than 5 minuts to
set up so they were woorking
the best is https://www.vpntunnel.se/en tjek it out they are really good
unfortunatly slow
you system is so unbelivelbel complex an yes I have been reading
www.xirvik.com = Tutorials = VPN
it s simply a bad manual it caotic bacause it s jumping betiwn linux xp
vista so the costumer simply get s lost
it what is what ... I dont really get WHY it has to be this way ? It s
proven fagcht that it can be done in a very easy way
tjek out vpntunnel .... the funny thing is that you seedbox are strongly
recomanded - so it s not like you pr defination deliver a bad produkt
but can you not make a manual of each win system xp vista linux an mabay set
it up so it s not so much problem
I meen time after time I have seen downloade install write usernam pasword
an the system is running


Sun Dec 05 23:04:15 2010 OpenVPN 2.2-beta5 i686-pc-mingw32 [SSL] [LZO2]
[PKCS11] built on Nov 30 2010
Sun Dec 05 23:04:15 2010 WARNING: No server certificate verification method
has been enabled. See http://openvpn.net/howto.html#mitm for more info.
Sun Dec 05 23:04:15 2010 NOTE: OpenVPN 2.1 requires '--script-security 2' or
higher to call user-defined scripts or executables
Sun Dec 05 23:04:15 2010 LZO compression initialized
Sun Dec 05 23:04:15 2010 Control Channel MTU parms [ L:1544 D:140 EF:40 EB:0
ET:0 EL:0 ]
Sun Dec 05 23:04:15 2010 Socket Buffers: R=[8192-8192] S=[8192-8192]
Sun Dec 05 23:04:15 2010 Data Channel MTU parms [ L:1544 D:1450 EF:44 EB:135
ET:0 EL:0 AF:3/1 ]
Sun Dec 05 23:04:15 2010 Local Options hash (VER=V4): '69109d17'
Sun Dec 05 23:04:15 2010 Expected Remote Options hash (VER=V4): 'c0103fa8'
Sun Dec 05 23:04:15 2010 Attempting to establish TCP connection with
67.159.49.66:443
Sun Dec 05 23:04:16 2010 TCP connection established with 67.159.49.66:443
Sun Dec 05 23:04:16 2010 TCPv4_CLIENT link local: [undef]
Sun Dec 05 23:04:16 2010 TCPv4_CLIENT link remote: 67.159.49.66:443
Sun Dec 05 23:04:16 2010 TLS: Initial packet from 67.159.49.66:443,
sid=aa2cd4a7 33136d94
Sun Dec 05 23:04:17 2010 VERIFY OK: depth=1,
/C=FR/ST=Paris/L=Paris/O=Xirvik/CN=usvpn001web.xirvik.net/emailAddress=support@xirvik.com
Sun Dec 05 23:04:17 2010 VERIFY OK: depth=0,
/C=FR/ST=Paris/L=Paris/O=Xirvik/CN=usvpn001web.xirvik.net/emailAddress=support@xirvik.com
Sun Dec 05 23:04:22 2010 Data Channel Encrypt: Cipher 'BF-CBC' initialized
with 128 bit key
Sun Dec 05 23:04:22 2010 Data Channel Encrypt: Using 160 bit message hash
'SHA1' for HMAC authentication
Sun Dec 05 23:04:22 2010 Data Channel Decrypt: Cipher 'BF-CBC' initialized
with 128 bit key
Sun Dec 05 23:04:22 2010 Data Channel Decrypt: Using 160 bit message hash
'SHA1' for HMAC authentication
Sun Dec 05 23:04:22 2010 Control Channel: TLSv1, cipher TLSv1/SSLv3
DHE-RSA-AES256-SHA, 1024 bit RSA
Sun Dec 05 23:04:22 2010 [usvpn001web.xirvik.net] Peer Connection Initiated
with 67.159.49.66:443
Sun Dec 05 23:04:24 2010 SENT CONTROL [usvpn001web.xirvik.net]:
'PUSH_REQUEST' (status=1)
Sun Dec 05 23:04:25 2010 PUSH: Received control message: 'PUSH_REPLY,route
10.8.0.1,topology net30,ping 10,ping-restart 120,ifconfig 10.8.0.186
10.8.0.185'
Sun Dec 05 23:04:25 2010 OPTIONS IMPORT: timers and/or timeouts modified
Sun Dec 05 23:04:25 2010 OPTIONS IMPORT: --ifconfig/up options modified
Sun Dec 05 23:04:25 2010 OPTIONS IMPORT: route options modified
Sun Dec 05 23:04:25 2010 ROUTE default_gateway=192.168.20.1
Sun Dec 05 23:04:25 2010 TAP-WIN32 device [LAN-forbindelse 2] opened:
\\.\Global\{53978A98-7FEE-41B7-BFE7-D91A061F7411}.tap
Sun Dec 05 23:04:25 2010 TAP-Win32 Driver Version 9.7
Sun Dec 05 23:04:25 2010 TAP-Win32 MTU=1500
Sun Dec 05 23:04:25 2010 Notified TAP-Win32 driver to set a DHCP IP/netmask
of 10.8.0.186/255.255.255.252 on interface
{53978A98-7FEE-41B7-BFE7-D91A061F7411} [DHCP-serv: 10.8.0.185, lease-time:
31536000]
Sun Dec 05 23:04:25 2010 Successful ARP Flush on interface [262147]
{53978A98-7FEE-41B7-BFE7-D91A061F7411}
Sun Dec 05 23:04:31 2010 TEST ROUTES: 1/1 succeeded len=1 ret=1 a=0 u/d=up
Sun Dec 05 23:04:31 2010 C:\WINDOWS\system32\route.exe ADD 10.8.0.1 MASK
255.255.255.255 10.8.0.185
Sun Dec 05 23:04:31 2010 Route addition via IPAPI succeeded [adaptive]
Sun Dec 05 23:04:31 2010 Initialization Sequence Completed

an stil I am on my Danish IP

regards
My Name
***********************************************************************************************************
mail 5
Answer from Xirvik

Den 06-12-2010 10:48, Xirvik support skrev:
Hi,

As the tutorials says please add this line

redirect-gateway def1

to the config file.

Xirvik

On Mon, Dec 6, 2010 at 10:47 AM, My Name <my@mail.com wrote:
Please tell me how to
I can send you the files if you will fix it for me
regards
My Name

Den 06-12-2010 10:15, Xirvik support skrev:
Hi,

Those logs show that OpenVPN is not changing the default route, i.e.
you didn't add the redirect to the configuration file.

Xirvik
***********************************************************************************************************
mail 6
Answer from me





On Mon, Dec 6, 2010 at 5:21 PM, My Name <my@mail.com wrote:

Hi I have here attach my config file here (the hole map) as a rar file
mabye you would be so kind to put in the infomation thats needed an mail i back
an I will simply past it into the config map
the best would be if its pointing at Holland

an maby descripe what you have done an I will ad an ecplenation to
the web page i made about this issue see here

http://chokmah.dk/Xirvik.html

part of the problem is when you show the xirvik_vpn.ovpn
on page http://www.xirvik.com/tutorial_en_openvpn.html#windows
it looks like it very orginazied
se : http://chokmah.dk/Xirvik/6.jpg
when i open it in notepade it s some very long lines
that is very caotik se http://chokmah.dk/Xirvik/7.jpg

but if the costumer somwhow could serach after som keywoord maybe there is a posibility
to corekt the nessesary adjustmen

fell free to use http://chokmah.dk/Xirvik.html as help for other users

regards
My Name
***********************************************************************************************************
mail 7
Answer from Xirvik




Den 06-12-2010 17:27, Xirvik support skrev:
Hi,

OK.This tutorial

http://www.xirvik.com/tutorial_en_openvpn.html

says that you have to add

this line

redirect-gateway def1 bypass-dhcp

to the config file which is this: xirvik_vpn.ovpn

Please do so and then reconnect. We've pointed you to that tutorial 4 times but you don't follow it. Traffic will not be routed to the VPN until you add that line.

Xirvik
***********************************************************************************************************

mail 8
Answer from me


On Mon, Dec 6, 2010 at 6:52 PM, My Name <my@mail.com wrote:

Corekt me if I am wrong but I have to add : redirect-gateway def1 bypass-dhcp
somewere in here ?

##############################################
# Sample client-side OpenVPN 2.0 config file #
# for connecting to multi-client server. #
# #
# This configuration can be used by multiple #
# clients, however each client should have #
# its own cert and key files. #
# #
# On Windows, you might want to rename this #
# file so it has a .ovpn extension #
##############################################

# Specify that we are a client and that we
# will be pulling certain config file directives
# from the server.
client

# Use the same setting as you are using on
# the server.
# On most systems, the VPN will not function
# unless you partially or fully disable
# the firewall for the TUN/TAP interface.
;dev tap
dev tun

# Windows needs the TAP-Win32 adapter name
# from the Network Connections panel
# if you have more than one. On XP SP2,
# you may need to disable the firewall
# for the TAP adapter.
;dev-node MyTap

# Are we connecting to a TCP or
# UDP server? Use the same setting as
# on the server.
proto tcp
;proto udp

# The hostname/IP and port of the server.
# You can have multiple remote entries
# to load balance between the servers.
remote 67.159.49.66 443


# Choose a random host from the remote
# list for load-balancing. Otherwise
# try hosts in the order specified.
;remote-random

# Keep trying indefinitely to resolve the
# host name of the OpenVPN server. Very useful
# on machines which are not permanently connected
# to the internet such as laptops.
resolv-retry infinite

# Most clients don't need to bind to
# a specific local port number.
nobind

# Downgrade privileges after initialization (non-Windows only)
;user nobody
;group nobody

# Try to preserve some state across restarts.
persist-key
persist-tun

# If you are connecting through an
# HTTP proxy to reach the actual OpenVPN
# server, put the proxy server/IP and
# port number here. See the man page
# if your proxy server requires
# authentication.
;http-proxy-retry # retry on connection failures
;http-proxy [proxy server] [proxy port #]

# Wireless networks often produce a lot
# of duplicate packets. Set this flag
# to silence duplicate packet warnings.
;mute-replay-warnings

# SSL/TLS parms.
# See the server config file for more
# description. It's best to use
# a separate .crt/.key file pair
# for each client. A single ca
# file can be used for all clients.
ca ca.crt
cert L.larsen..crt
key L.larsen..key

# Verify server certificate by checking
# that the certicate has the nsCertType
# field set to "server". This is an
# important precaution to protect against
# a potential attack discussed here:
# http://openvpn.net/howto.html#mitm
#
# To use this feature, you will need to generate
# your server certificates with the nsCertType
# field set to "server". The build-key-server
# script in the easy-rsa folder will do this.
;ns-cert-type server

# If a tls-auth key is used on the server
# then every client must also have the key.
;tls-auth ta.key 1

# Select a cryptographic cipher.
# If the cipher option is used on the server
# then you must also specify it here.
;cipher x

# Enable compression on the VPN link.
# Don't enable this unless it is also
# enabled in the server config file.
comp-lzo

# Set log file verbosity.
verb 3

# Silence repeating messages
;mute 20

regards
My Name

***********************************************************************************************************

mail 9
Answer from me



On Mon, Dec 6, 2010 at 7:20 PM, My Name <my@mail.com wrote:

Well in that case I have to admit I am Lost
on page http://www.xirvik.com/tutorial_en_openvpn.html
as you refer to it says
I qvote : " Open the file titled xirvik_vpn.ovpn with notepad or another text editor such as textpad.
See the example below. "

so I open xirvik_vpn.ovpn as I send you ( or i Thougt i did at leats it s the name of the file)

well feuter down at http://www.xirvik.com/tutorial_en_openvpn.html

is says :

At the very end of the document/configuration file enter the following code to route all traffic through the VPN. Don't forget to replace everything in parentheses with the proper information.

redirect-gateway def1 bypass-dhcp

# Any DNS can go here
dhcp-option DNS (Primary DNS)
dhcp-option DNS (Secondary DNS)

Here is an example of the code, with real information.
If you're unsure about your DNS, you may use OpenDNS which is free and very good.
Copy the code below exactly if you'd like to use OpenDNS.

redirect-gateway def1 bypass-dhcp

*******************************'-----------***************************

so I geus some or all of That got to be copy pastet into something wich acroding to the page ( http://www.xirvik.com/tutorial_en_openvpn.html )
should be : xirvik_vpn.ovpn

if it s not the xirvik_vpn.ovpn file as written what is it so ? an is it placed in the folder config ? the sub folder on OpenVPN ?

regards
My Name




Den 06-12-2010 18:57, Xirvik support skrev:
Hi,

It's not in your email and it's not in the config file you sent.

Xirvik

***********************************************************************************************************

mail 10
Answer from Xirvik


-------- Original Meddelelse --------
Subject: Re: Xirvik VPN access
Date: Mon, 06 Dec 2010 21:37:01 +0100
From: My Name <my@mail.com
To: Xirvik support <support@xirvik.com


Now I am Geting a bit confused as I understand I have send you a 2 days old xirvik_vpn.ovpn file

You write : "The xirvik_vpn.ovpn in the .zip file you sent me is two days old and doesn't have that anywhere in the file."
what is the point to what you are writing ??? I mean it opens more quastions than answers I might be dence but I never hat so much trouble whit
a vpn before ... I am a bit facinatet that it s woorking whitout being woorking see http://chokmah.dk/Xirvik/4c.jpg on http://chokmah.dk/Xirvik.html

well thats what you are writting to be clear :

1.) should I have another one ?
if :
2.) how should I get it ?
3.) What is the two days old xirvik_vpn.ovpn : doesent have ?

I have understod that the xirvik_vpn.ovpn is an important file

from the page it says ( I Know I repeat my self)
http://www.xirvik.com/tutorial_en_openvpn.html
"Open the file titled xirvik_vpn.ovpn with notepad or another text editor such as textpad"

is mine not real ?
what is wrong ?

I mean after all a xirvik_vpn.ovpn is pretty much a txt file - if it s in your prower can you send me a new an woorking xirvik_vpn.ovpn file ?

do you have an onlince chat service ?

regards
My Name

Den 06-12-2010 20:26, Xirvik support skrev:
Hi,

The xirvik_vpn.ovpn in the .zip file you sent me is two days old and doesn't have that anywhere in the file.

Xirvik

***********************************************************************************************************

mail 11
Answer from me



On Mon, Dec 6, 2010 at 9:49 PM, My Name <my@mail.com wrote:

I have been corsponding whit you support -
there is 2 posibilities

1.) The system does not really woork you can see here how I been woorking whit it here http://chokmah.dk/Xirvik.html
2.) I dont understand the answers I get - I have a felling that I am asking about one thing an get an answer to something else

The first mail says : "We are aware that setting up VPN access may be a bit tricky if you

haven't done it before...." I hat more than 8 diferen VPN soulution in my life none of them has taken me more than 5 minuts to set up

haven't done it before.

( se the mail corspondence under this)

I know that it not much but if it s not woorking I would like a refound
regards
My Name
***********************************************************************************************************

mail 12
Answer from Xirvik

Refund just sent, sorry it has not worked out for you.

Xirvik